On 16 September 1977 the Peace Meditation Group at the United Nations dedicated a small island in the East River, adjacent to U.N. Headquarters, to the memory of the late Secretary-General U Thant.
State authorities gave permission for the Meditation Group to beautify the island and build a monument, with Governor Hugh Carey sending an official letter of soulful dedication to U Thant Island, citing U Thant's work for world peace.
The dedication ceremony, held on what turned out to be a rainy but calm Friday afternoon, included the burying of a metal box or cornerstone, which contained a gold pen and tie clasp belonging to U Thant, as well as various significant artifacts and documents from the U.N., government officials, the Meditation Group and its leader, Sri Chinmoy, a personal friend of the late Secretary-General. Members of U Thant's family were present, with his daughter, Mrs. Aye Aye Thant, unveiling the Plaque.
Representing the UN Security and Safety Service was Officer Carlos Stozek, one of the Officers who worked closely with U Thant, who broke ground for the cornerstone. The short programme opened with a silence invocation by Sri Chinmoy, followed by several speakers.
* The Meditation Group at the UN (originally know as UNMG)  began when Sri Chinmoy was invited to lead Meditations for the UN Community in 1970, by Secretary-General U Thant.. After the initial years the group was recognized as "Sri Chinmoy: The Peace Meditation at the United Nations". This association of delegates and staff continues to offer regular meditations and other programmes to the UN Community.
---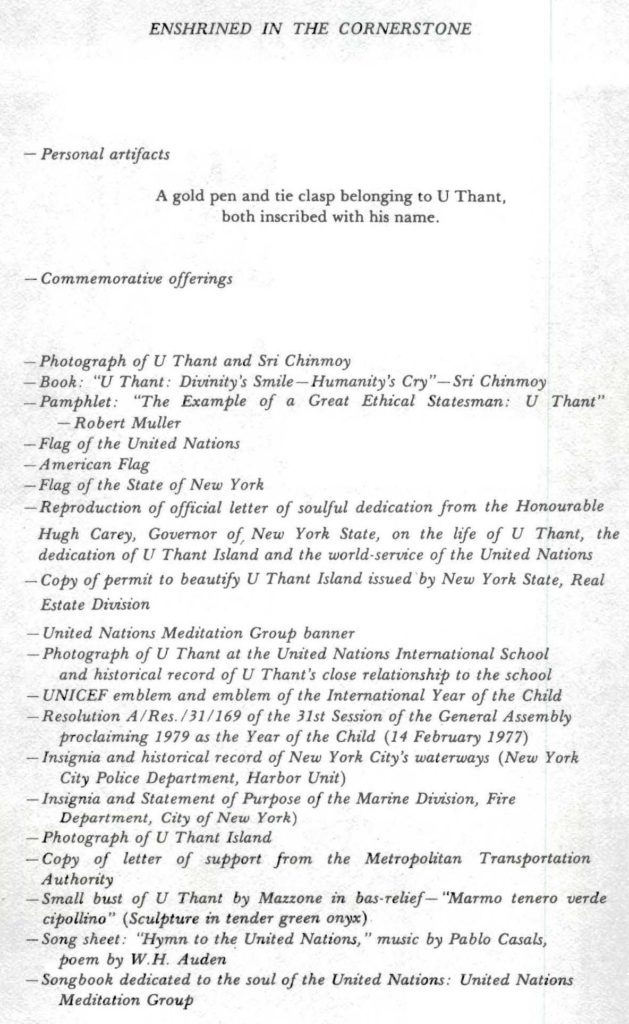 Manhattan map showing location of island:

View of island from Queens, with explanatory park sign