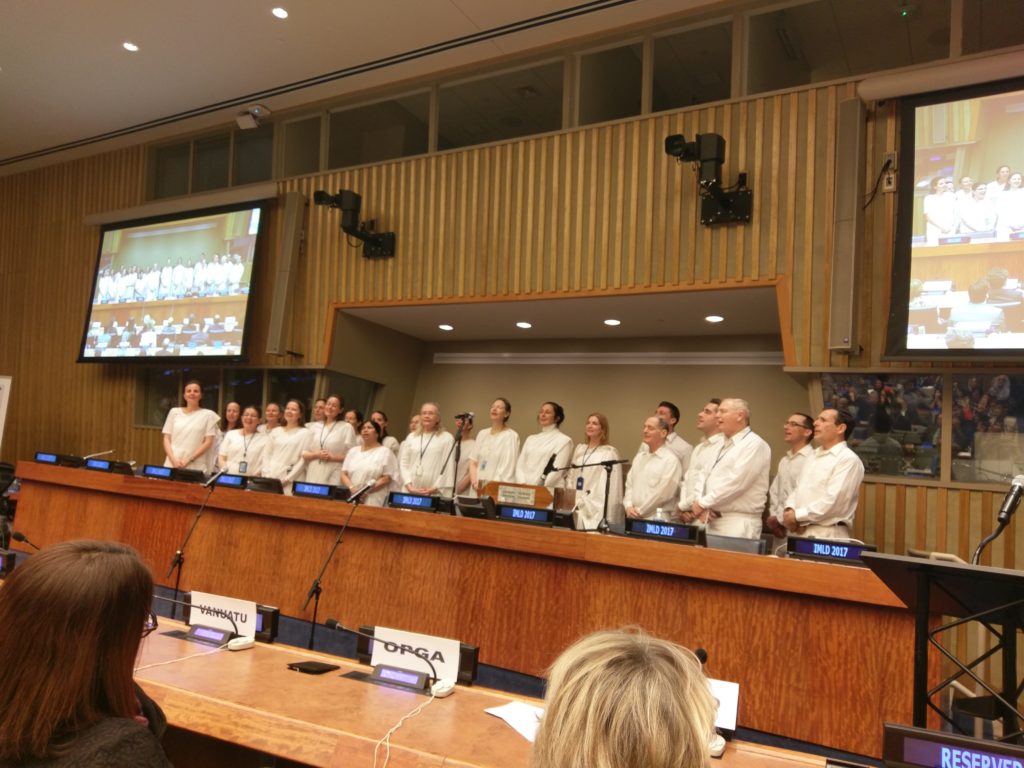 On 21 February 2017, the Peace Meditation Choir was invited by H.E. Ambassador Masud Bin Momen, Permanent Representative of Bangladesh to the UN, to perform at an International Mother Language Day celebration at UN Headquarters in New York.
Held in Conference Room 4, the programme was co-sponsored by the Permanent Missions of Bangladesh, Hungary, Mauritius, Peru and Vanuatu, in collaboration with the UN Secretariat and UNESCO Office in New York, as well as the Office of the Mayor of New York City.
The Singers, led by Tanima Bossart, opened the Cultural Segment of the programme with the theme song for the 21st of February, Amar Bhaiyer, led by a very special member of the group, Saleha Islam, the wife of Khourshedul Islam, a freedom fighter in the Bangladesh Liberation Movement.
The Singers then read a poem by Sri Chinmoy in the original English, as well as several translations representative of the Mother Languages of some of the singers. This poem was featured when members of the Diplomatic Community recently joined in setting a Guinness World Record for the poem recited in the most languages in 24 hours (a total of 203 languages).
 "O dreamers of peace, come.

Let us walk together.

O lovers of peace, come.

Let us run together.

O servers of peace, come.

                         Let us grow together."

– Sri Chinmoy
The Choir closed with four songs by Sri Chinmoy, dedicated to the UN and peace, both in English and Bengali.
Click here for the full UN webTV programme.